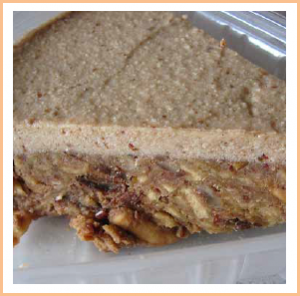 Eating fresh is finally becoming a mainstream diet. More and more people are waking to the fact that their bodies, minds and habits are all part of the same scene that is out-picturing in their lives and that in order to display perfect health and vitality each area needs to be balanced and healthy.
Eating raw is the answer. The more of your diet that begins and ends using raw ingredients the more nutrition you are squeezing into each bite you take.
Switching to eating fresh/raw during our regular meals such as breakfast, lunch or dinner is hard enough and a challenge on its own, but is there a way to eat fresh when we're in the mood for a sweet snack or when enjoying dessert?
Must we always feel guilt after participating in these sense enhancing activities? Is it really that bad to enjoy something "sweet"?
Not if we stay balanced. Balance is always the keyword and the best way to do that when incorporating a sweet treat into your diet is to balance the sweet by using totally natural…in their natural state foods to create these treats with.
It is not snacking and desserts that are inherently bad…it is the ingredients and the cooking methods used that create life-giving treats or life-destroying "witch's apples".
Incorporating as many "raw" ingredients into your treats shifts everything towards better overall health and well-being rather than adding destructive elements to your body.
Raw ingredients contribute health-promoting vitamins, enzymes, fiber and healthy fats. They are easy to make, cost a reasonable amount (especially when you gauge it against what you would pay for medical care on the other end)…and can be made in a reasonable amount of time.
You'll eliminate bad carbs such as white flour and white sugar and bad fats such as saturated and Trans fats) along with a wealth of unhealthy chemicals and preservative. Not only will you eliminate these villains but you eliminate the age old tradition of baking itself.
Easily replace flour with ground nuts, dried fruits replace sugar, avocados and coconut oil is used to replace butter, cream and eggs.
Raw desserts are the answer to getting additional raw, uncooked and unprocessed food into our bodies and those of our families where they can work their magic…the magic of nutritional transformation.
Prevent obesity, prevent disease and enjoy better nutrition preparing recipes so tasty you won't miss the wheat, gluten, sugar, and unhealthy fats that are present in old fashioned cooking and baking methods that incorporate intense baking/cooking and processed unnatural ingredients.
Here's a great recipe to get you going in the right "raw" direction…
Who doesn't love apple pie or some version of it?
Apple Pie With Cashew Cream Topping
8 apples (any variety)
½ cup dates (soaked 30 minutes and drained)
½ cup raisins
1 teaspoon cinnamon
½ teaspoon nutmeg
1teaspoon vanilla essence
Juice of a lemon
Water as needed
Roughly skin, core and chop the apples and place in food processor with dates, raisins, lemon and spices. Blend until the apples are broken up but still a little chunky. Add a little water if needed a tablespoon at a timed to allow the mixture to blend together. Pour mixture into a dish or pan.
Topping:
1 ½ cups cashews
6 dried dates (soaked 30 minutes and drained)
¼ cup coconut oil (warmed until liquid)
2 teaspoons vanilla essence
¼ cup honey water as needed
Process all ingredients and blend until smooth and creamy adding water as necessary. Smooth on top of apple mixture.
For more raw uncooked, healthy, gluten, wheat and sugar free recipes go to:
You can enjoy your favorite desserts without experiencing guilt and still fit in those jeans of yours.