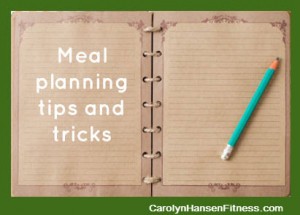 Without a doubt, eating is one of life's greatest pleasures. However, for some it is also a huge inconvenience. With so much hustle and bustle going on in our lives and our days seemingly like 18 hours rather than 24, we often feel we should be using our time for some other important endeavor rather than planning and preparing delicious healthy meals.
When we choose to miss an important meal or neglect our nutrition in some way the only thing we accomplish is harm to our health. Not only that, but when we skip meals and our hunger finally takes over and exerts itself, we are left with little control for what we eat usually grabbing the first thing we see without a thought about how it affects our healthy, waistline or energy levels.
There is no amount of wishful thinking or willpower that can overcome or make up for the short long-term consequences of becoming a "whatever, whenever" eater. When we fail to plan what our meals contain and when we are going to eat, we set ourselves up for failure…one after another and a long-road ahead.
Simply by planning ahead and developing a regular schedule and anticipating when your body needs nourishment you will consume better food. Your choices won't be made out of extreme hunger or a passing whim that causes you to eat in response mode. You will make healthier choices if you plan ahead of time.
If you want to avoid becoming a "victim" to uncontrollable urges that do nothing to expand your health then try writing down your meal-plan for the next day and for upcoming days.
Just by making it a habit to write down and record your menus you'll set healthier habits firmly in place that work in your favor for the long haul and you'll need much less effort and discipline to eat right.
Towards the end of your day begin to plan your next day's meals. This gives you time to organize all the components needed for the following day rather than trying to put a healthy meal together at the last minute (of course that is going to happen once in a while but it should not be your habit).
You may also choose to plan your meals for the entire week which will make your grocery shopping easier and eliminate racking your brain about what to eat.
Planning ahead offers advantages over impulse eating. You'll have time to research and try new recipes and experiment with different types of "clean food."
First you need to decide your specific nutritional needs and then create an effective eating plan based on your lifestyle and how you intend to fit your healthy eating around school, work, family or any recreational activities you have planned.
Using a "meal planning worksheet" is the perfect tool to help you figure out and plan exactly what you'll be cooking and preparing for each meal.
You can use the sample worksheet below for a template on how to create your own….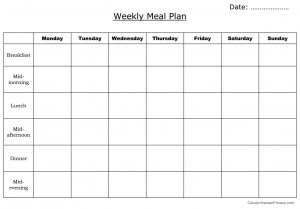 A spiral notebook is a great tool for planning your meals. Use one page for the meal plan itself and the opposite page for preparation instructions putting everything right at your fingertips.
Begin my listing your meals down the left-hand side. List all of them…breakfast, mid-morning snack, lunch, mid-afternoon snack, dinner and evening snack.
Across the top of the page you'll need seven columns one for each day of the week. Simply write into each box what you plan to prepare.
Place your meal planning worksheet in a visible place that is easily seen or you can take it with you when you go off to school or work. By adding your intended mealtimes, you'll keep yourself on track and won't allow your body to get too hungry…always a danger to "eating too much."
However, if you do slip up and miss a meal or two (it will happen) and end up on an uncontrollable binge, don't beat yourself up over it. That just compounds the issue. Let it go (you can't change the past) and begin planning solutions for the next time you are at risk.
Like everything else in life, you will get better and better with practice at managing these situations.
It's never about perfection but about moving forward and improvement.
You can be "rebound" free from your weight loss. You just need the right help and the right tools…for both your body and your mind. "Rebound Free Weight Loss"…for those who want to slim down for good.