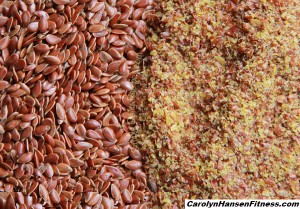 Is flax seed the new wonder food?
Preliminary studies show that flax seed may help fight everything from heart disease and diabetes to breast cancer.
The tiny but mighty flax seed carries one of the biggest nutrient payloads on the planet. While its technically not a grain, its vitamin and mineral profile is similar to grains but flax seed kicks butt in fiber, antioxidants and those all important Omega-3's.
This little wonder shows evidence that it may help reduce your risk of heart disease, cancer, stroke and diabetes, quite a tall order for a tiny seed that's been around for centuries. [Read more…]