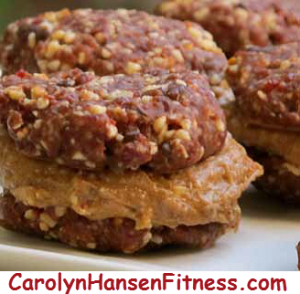 It doesn't matter what season it is or whether we're celebrating a specific holiday or entertaining friends, dessert usually ends up the star of the show.
After all, for most, it will be the last part of the meal and the last thing you or your guests enjoy before the evening is over so it's not surprising that it sticks in their minds.
Every day we hear more and more about the negative effects of gluten or white flour or sugar…and now we learn that "cooking" at high temperatures destroys many of the nutrients we paid good money for and what we're really consuming is a sad representation of the healthy nutrients that used to be there.
So, how do we keep dessert as the star of the show when there is so much negativity about ingredients that are normally associated with desserts? How do we shift from eating foods with white sugar, white flour, dead calories and few nutrients…foods that we have been offered our whole lives and conditioned on our whole lives?
How can we enjoy special occasions with friends or family holiday desserts without feeling the accompanying guilt that follows? How do we shift our minds away from high-calorie, white flour and white sugar laden desserts that offer little taste and few nutrients?
Desserts like everything else have come a long way these days. The advent of the Internet with the wealth of information shared has helped to shift our knowledge and therefore our actions in regards to eating whether its dessert or dinner.
We can now without guilt thoroughly appreciate, enjoy and indulge in desserts in a whole new way. 
Raw desserts. They are both delicious and healthy and even better, there is no bloating, lethargy nor guilt experienced when you eat raw desserts.
On the contrary, you'll feel lighter, with more energy and as a bonus you'll feel great about treating your taste buds to the gift of quality nutrition even when enjoying dessert.
Because they are alive with fresh ingredients (made with real, whole healthy foods) they taste better than their traditional counterparts.
Wait till you see how easy it is to replace flour with ground nuts, white sugars with dried fruits and other natural sweeteners and high calorie butter, cream and eggs replaced with coconut and coconut oil.
As a bonus, enjoying raw desserts helps to keep our weight in check and healthy. We get to enjoy fresh whole ingredients that help to make us leaner, energetic and healthier and we get to ditch the guilt! What's not to like?
Here's a great recipe that's tasty enough to serve as dessert but quick and easy to grab for a healthy treat (having ready healthy treats at your fingertips is what helps you to stay away from the not so good ones) to use as quick treats to grab and go and as a full out dessert served with your favorite beverage.
Almond Cherry Cookies 
Base and Topping:
1 cup almonds
1 cup dried cherries
¼ cup coconut oil (warmed until liquid)
¼ cup desiccated coconut
¼ cup honey
¼ cup cacao nibs or chocolate chips
Process almonds until they resemble breadcrumbs. Add cherries, coconut oil, coconut and honey and pulse until well combined.
Finally add cacao nibs and pulse until just combined.
Take tablespoons of the mixture and make into 16 balls. Flatten into cookie shapes and place on a tray. Place in fridge or freezer to firm up and set while you make the filling.
 
Filling:
½ cup almonds
2 tablespoons honey
½ teaspoon cinnamon
Process almonds until they are finely blended. Add honey and cinnamon and process again until mixture is smooth.
To assemble – Spread the filling on 8 of the cookies. Top with another cookie and press down gently.
Place in fridge for an hour or two before serving.
Enjoy!
For more great recipes that will have them asking for more…
"50 Healthy Raw Desserts" Volume One and Two…for a total of 100 incredibly healthy desserts to enjoy.